Litigation Experience
Litigation Experience
There is no more exhilarating part of the practice than the courtroom
In my career I have appeared before the
United States District Court of Massachusetts, Massachusetts Supreme Judicial Court, Massachusetts Appeals Court, Superior Court, District Court and Housing Court.
I have represented clients on a broad range of issues including;
personal injury, torts, federal civil rights, Massachusetts Civil Rights,labor and employment, contracts, discrimination, automobile accidents, civil service, police misconduct, Massachusetts Tort Claims Act, Qui Tam and premises liability.
Below is a sample listing of my court appearances
Beal vs. Blache and City of Methuen, USDC-MAD 2005 WL 352861Monahan vs. Methuen, Supreme Judicial Court, 408 Mass. 381Blaser vs. Town Manager of Methuen, Appeals Court, 19 Mass. App. 727,477 N.E.2d 417, review denied 395 Mass. 1102 Wightman vs Methuen, Appeals Court, 26 Mass App. Ct. 279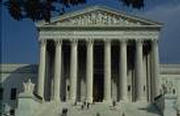 Administrative Agency Appearances
I have also tried cases before;
Appellate Tax Board, ABCC, Contributory Retirement Appeals Board, Civil Service Commission, Division of Administrative Law Appeals, CRAB, Housing Appeals Committee, DEP, Labor Relations Commission, JLMC, MCAD and Board of Conciliation and Arbitration.
My Contact Information
http://massachusettsattorney.onlineinlocal.com/